Tram Stop Stanchions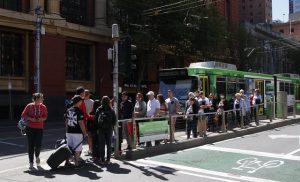 Stanchions are sturdy upright fixtures which can support handrails and wire.
We offer specific stanchions designs for use to protect and manage commuters at tram stops.
The stanchions are made from 304 grade stainless steel and are then powder coated to be available with a mirror or satin finish.
When it comes to high quality stanchions, we are simply the company to trust for the supply and install, for both commercial and residential customers, providing unmatched workmanship, excellence and reliability for our clients.
We have been providing and site installing complete projects custom designed quality products for the past 25 years.
We can source, deliver and install the stanchions to offer a complete solution.
For a free quote or just to find out more, our sales team would love to hear from you.
Download Now  
Product specification document – by Australian Handrails